Calgon "take me away"
"Calgon take me away"
is right!
Why in the world does someone, MEANING me of course, decide to start a project when my son is having a party here tonight!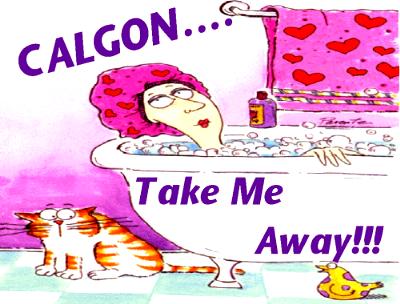 We have twenty teenagers coming, and I get it it my head to start painting.
Let's just say I am stubborn, and when I get it in my head, there is no getting it out.
Are there meds for that? I have to check with my husband.
He just kindly said to me...
"Deb don't you have enough on your plate" Yeah, what's your point"?
Did I listen? NO....................................
Am I the only one like this?

Of course I have ironing to do in between all this chaos.


Then I decide it would be quick to paint this iron table, with a million grooves in it, NOT!~ Then I did not care for the color, and had to start over. The color is nice, just too light.


Then I decided those three black nesting tables, needed a makeover, something my husband told me long ago, NEVER to paint. Did I listen...NOPE!
those did not turn out well either.



Sure hoping at the end of the night, everyone is doing this!~
I have since made good on my projects, and my achy breaky back is killing me.
20 teenagers in my house tonight, did i mention anxiety?
We do not have a basement, and we pretty much are giving them free reign of the house.
Music, food, a little twister..
we removed the coffee table and rug. We have a disco ball, and last night Mike and I tested out the scene.
We are thinking it would be fun for us, hope it is fun for them.
and did I mention there will be cute girls?
ought to be fun!!~
See you tomorrow night for the newbie party.
Labels: Calgon take me away