The Great Spring'tacular! {Special announcement}

~Flash News Report~
Hot off the press
Spring Fever is spreading like rabbits!

Symptoms include, but not limited to:
1. Daydreaming about pastel colors.
2. Increased desire to bite off chocolate bunny ears.
3. Visions of marshmallow peeps dancing in your head.
Prescription:
There's only one cure and we're here to help you!
The Great Spring'tacular Party
Join others who are experiencing the same thing, there's nothing more fun than getting together and spreading the fever!
I hope you'll join us for 4 days of inspiration. Link up ~ at one or all parties! You've got plenty of time and we know you're getting Spring Fever just like us!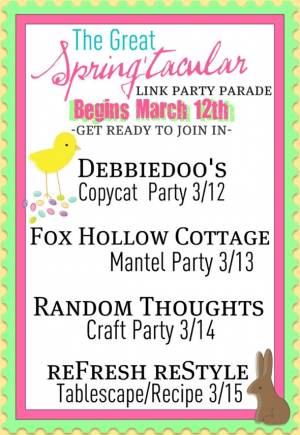 Everyone's Invited! I hope to see you here!
Debbie from Debbiedoo's is hosting the Magazine Copycat Party on 3/12
Shannon from Fox Hollow Cottage is hosting the Mantel Party on 3/13
Gina from Random Thoughts is hosting the Craft Party on 3/14
Debbie (that's me) from reFresh reStyle is hosting the Tablescape / Recipe party on 3/15
Now how is that for a news flash?!
Can't wait!~ hop to see you here on March 12th to help kick of the party.
Your magazine copy cat challenge is not limited to Spring, however, it would be NICE to see some Spring in the air. Just remember, to include your image from your magazine source. Can't wait!
Grab our button, put it on your sidebar! Invite all your friends~we're going to have a Party!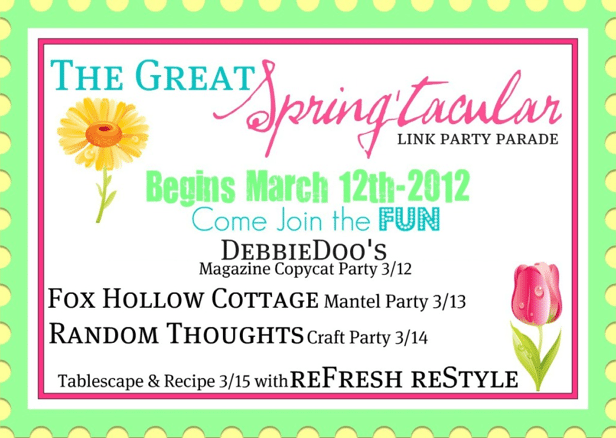 <div align="center"><a href="http://debbie-debbiedoos.blogspot.com/" title="Debbiedoos"><img src="http://refreshrestyle.com/wp-content/uploads/2012/01/Screen-shot-2012-01-23-at-3.42.49-PM.png" alt="Debbiedoos" style="border:none;" /></a></div>